Astra Zeneca Opportunity for CHS Post 16 Students
Astra Zeneca Opportunity for CHS Post 16 Students
24 July 2017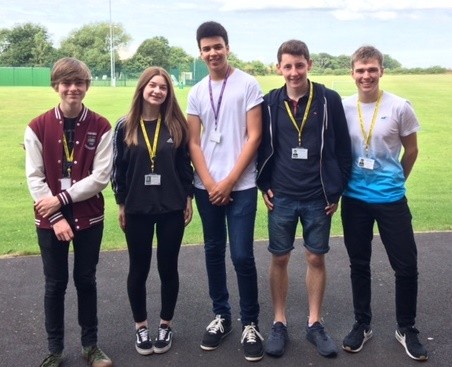 Nine of our Year 12 students, (L-R in the photo) Daniel Smith, Sam Cosgrove, Emma Williams, Katie Archer, Jack Tranter, Chloe Tatton, Max Hill, Ben Oakley and Aaron Barrett, travelled to Astra Zeneca to take part in their Challenge in January.
As part of the winning team, Daniel Smith and Sam Cosgrove were awarded a week's work experience and Chloe, Jack and Max also secured a placement on the basis of their own personal performance.
In July, the five successful students spent their work placement week with the company. They were able to select which area of the Astra Zeneca business they would like for their placement, making it a very worthwhile opportunity indeed. Based at the Macclesfield plant, the group visited various departments to give them a greater understanding of the work that the company undertakes and were able to see a wide range of activities taking place.
In addition to seeing the company in operation, experiencing a tour of the main drugs production sites and sterile areas, seeing the equipment and instrumentation used by the Astra Zeneca team, the students were also able to get involved in a number of projects themselves, undertaking research and other tasks.
As an additional bonus, students were also coached in preparing a CV and interview skills, both of which proved to be extremely valuable and will be of great help when the group begin to plan the next stage of their career paths.
The feedback from Astra Zeneca was extremely positive and rewarding, with the company commenting how the five students were 'a credit to the school'. The students too felt that the week had been extremely beneficial, with one adding:
'It was really great to see different aspects of the company and experience what it's like to be part of it. I had a great time - thank you, Astra Zeneca, for the opportunity, I am very grateful."
Tags: Work Placement Opportunities